BH FITNESS BIKE ROOM i.TFB
Designed for intensive home use or less intensive semi-professional use.
Maximum user weight: 150 kg
ali
Hitro in enostavno obročno odplačevanje
Že od 25.49 €
Izračun obrokov
Potrebujete dodatne informacije o izdelku? Pokličite nas na 051 453 105 ali pa nam pošljite povpraševanje.
Send inquiry
Product is currently Out of stock.
Enter your email and get an update when product is back in stock.
BH FITNESS BIKE ROOM i.TFB
PROPERTIES
Designed for intensive home use or less intensive semi-professional use.
The gap between the handlebars and the smooth part of the bike makes it easy to get in and out of the bike, in case of movement limitations of the trainee.
No maintenance. Quiet and smooth operation over a wide voltage range.
Blue backlit LCD display with 12 exercise programs and 24 intensity levels (challenging programs to help you meet your goals)
4 personal programs (4 users can program their own program)
5 heart rate training programs (training in zones, training at the desired heart rate - the device automatically adjusts the intensity)
R ecovery test (fitness test)
Fitness Test
Wireless heart rate measurement (5kHz chest strap required) allows you to monitor your heart rate on your device or phone
XXL anatomical seat (provides a perfect fit for all body sizes)
Seat adjustable both horizontally and vertically (more comfortable and intensive to use)
Bottle holder
It has wheels for easy movement around the room
- I.concept device with integrated bluetooth smart 4.0 technology (IOS, Android)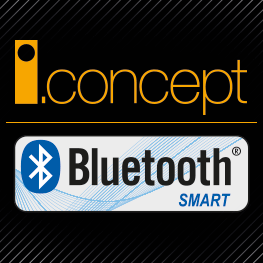 Enrich your training with motivational applications that will help you achieve your desired goals.
Applications can be found here.
Technical information:
Length: 130 cm
Width: 62 cm
Height: 156 cm
Weight: 53 kg
Maximum user weight: 150 kg
Weight of aluminum flywheel: 14 kg