BIKE BH FITNESS i.TFR ERGO DUAL SEMI-SEATED
Special Price
€1,190.00
Regular Price
€1,290.00
ali
Hitro in enostavno obročno odplačevanje
Že od 28.05 €
Izračun obrokov
Potrebujete dodatne informacije o izdelku? Pokličite nas na 051 453 105 ali pa nam pošljite povpraševanje.
Send inquiry
Product is currently Out of stock.
Enter your email and get an update when product is back in stock.
Free delivery and installation
 WARRANTY OF 12 MONTHS
BIKE BH TFR ERGO DUAL semi-seated
Designed specifically for very intensive use. High performance for the most demanding home use.
Recumbent bike with constant lumbar support. Specially designed for people with back and circulation problems.
Magnetic braking system. No maintenance. Quiet and smooth operation even at a high level of exercise.
Blue illuminated LCD monitor with 12 preset exercise programs, with 24 intensity programs. Challenging programs to help you meet your goals.
4 Heart Rate Control Programs (HRC). It automatically regulates the intensity of the exercise according to the selected heart rate limit.
5 Custom courses (uPrg). It allows users to design their own programs.
Flywheel weight: 12 kg
Program Random. Each time a new randomly generated program appears on the screen.
Recovery test (RT) - helps to control the state of fitness through controlled recovery.
Fitness Test - helps monitor fitness through controlled recovery.
Pulse measurement system - sets targets for training in advance.
Wireless heart rate monitoring with a heart rate monitor (not included), for radio frequency (up to 5 kHz). It enables high-intensity exercise with comfortable heart rate control on a monitor or on a mobile device.
Multi-position steering wheel. More comfortable to use.
Horizontal seat adjustment. It helps everyone to find the correct position on the drives.
It has small wheels for transport, which means you can easily move it around the house.
Bottle holder - very useful for long workouts.
Specifications:
Length: 167 cm
Width: 68 cm
Height: 130 cm
Weight: 53 kg
Maximum user weight: 130 kg
- I.concept device with integrated bluetooth smart 4.0 technology (IOS, Android)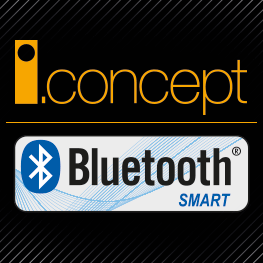 Enrich your training with motivational applications that will help you achieve your desired goals.
Applications can be found here.
Contact us for more information.